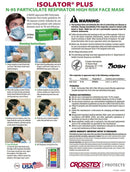 Description
N95 Masks In Stock. Made in USA
The Isolator Plus N95 Surgical Respirator by Crosstex provides high filtration of submicron particles for protection against certain airborne particulates in accordance with the CDC guidelines for TB exposure control. These products are NIOSH approved as N95 particulate filter respirators (95% particulate filter efficiency level) and therefore meet OSHA requirements when used with an acceptable respirator program. 
Crosstex N95 Isolator Plus Surgical Respirator Features
Made in USA
NIOSH-approved and FDA-cleared flat-fold N95 Surgical Respirator with malleable nose and chin pieces for a better fit (fit instructions here)

Meets guidelines for TB exposure control
Fluid resistant to penetration by synthetic blood at 160 mmHg
99.9% BFE (bacterial filtration efficiency) at 3 microns
99.9% PFE (particulate filtration efficiency) at 0.1 micron
Fluid resistant inner and outer layers
Malleable aluminum band over the nose and under the chin provides a comfortable
Chin pocket construction provides increased comfort
Not made with natural rubber latex
Although the N95 closely resembles a surgical mask, it is a respirator
and must be used in accordance with all OSHA regulations regarding respiratory protection
No returns
Terrific Mask
High quality, tight fitting and easy to breathe. Highly recommend this mask.
Very reliable
I've ordered several times in the last year from Primo Dental and they ship the masks I ordered quickly. Very reliable and you can be sure their masks are genuine. The prices are good too compared to other N95 suppliers. When people ask me where I get my masks, I tel them Primo Dental! No compromise.